Disclaimer: I am not a medical doctor nor do I have medical training of any kind. What follows is my understanding of the arteriopathy of CADASIL and the arteriopathy caused by hypertension. I did, however, discuss my understanding of this issue with my CADASIL neurologist before posting.
Note: all photos are irrelevant and are ©pwcimages
High Blood Pressure
Persistent high blood pressure levels are potentially dangerous, leading to an increased likelihood of developing cardiovascular disease that can lead to heart attacks, heart failure, stroke and other unwanted health issues.
I live in Australia and the Heart Foundation here states that any blood pressure (BP) reading from 140/90mmHg upwards is high.
Source: Guideline for the diagnosis and management of hypertension in adults, 2016

This definition of high BP is consistent with that of similar bodies around the world: British Heart Foundation; Heart and Stroke Foundation of Canada; Blood Pressure UK; Southern African Hypertension Society.
In the USA, however, their Heart Foundation definition of hypertension was revised in 2017 (as reported here by Harvard Health) as follows: hypertension Stage 1 (130-139/80-89); and hypertension Stage 2 (140+/90+).
Source: American Heart Association
So When Does High Blood Pressure Become Hypertension?
A one-off high blood pressure reading does not mean that you have hypertension.
Blood pressure levels fluctuate throughout the day and it is possible to have temporary mildly elevated to highly elevated levels, e.g., during a period of high emotional stress; during intense exercise. This is normal.
According to The Heart Foundation of Australia, a diagnosis of hypertension can only be made after "a comprehensive assessment of blood pressure…based on multiple measurements taken on several separate occasions, at least twice, one or more weeks apart, or sooner if hypertension is severe."  See Guideline for the diagnosis and management of hypertension in adults, 2016, Chapter 4, Evaluation and Diagnosis of Hypertension
Why You
Really

Don't Want Hypertension

What is it about hypertension that heightens the likelihood of developing the cardiovascular issues I mentioned earlier, and why is it so undesirable in those of us who have CADASIL?

One of the most significant and problematic of the many features of CADASIL is arteriopathy (disease of the arteries). The consequence of that arteriopathy, especially in our small arteries and arterioles, is that, over time, the blood vessel walls progressively become thicker and stiffer. This results in a narrower lumen (the bit through which the blood flows) and much less compliant (elastic) blood vessel walls, meaning they will no longer be able to dilate and contract to accommodate changes in BP levels. And in CADASIL, this happens in the absence of hypertension. So, behind the eight ball already. And long term, ongoing hypertension – in the absence of any other disease factors – leads to exactly the same result, although the mechanisms involved are not the same.

In hypertension, the process of thickening and stiffening of arterial walls is called arteriosclerosis. When it happens in arterioles, it is called arteriolosclerosis (note the slight difference in spelling). And the arterial damage that occurs in hypertension is unable to be reversed (as is also the case in CADASIL).

Whilst hypertension is a common occurrence in elderly people, a combination of risk factors can see it occur much earlier in life. See Risk Factors for High Blood Pressure (Hypertension).
Source: Scielo

Arteriolosclerosis
Arteriosclerosis and arteriolosclerosis are not to be confused with atherosclerosis.
Arteriolosclerosis is a structural change in the affected blood vessel walls of arterioles as a consequence of the sustained pressure of hypertension whereas atherosclerosis is a result of plaque build-up inside the blood vessel.
Arteriolosclerosis
Source: Mechanical Stress and the Arterial Wall
Atherosclerosis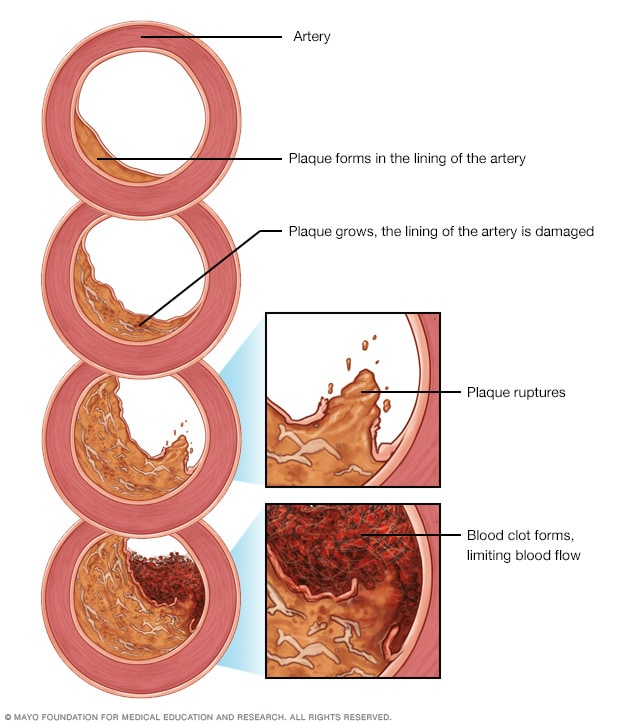 Source: Mayo Clinic
And Arterioles Are Bloody Thin!
The scale at which arteriolosclerosis happens is minute – unimaginably tiny, especially for the terminal arterioles where blood is dispersed into capillaries.
Image Source: Quora
So how tiny is tiny? One µm (micrometer or micron) = 1/millionth of a metre or 1/thousandth of a millimetre. Hard to imagine that something so narrow could have any meaningful structure let alone be able to transport blood. The image above shows arterioles vary in width from 10µm to 30µm (and check out the width of the arteriolar walls!) Compare these widths to: human hair (17 to 181µm); paper thickness (70 to 180µm); wool fibre (10 to 55µm); cling wrap (10 to 12µm); and, spider's web silk (3 to 8µm). See Micrometre.

What To Do?
Don't add fuel to the fire. If the pathology of CADASIL means that the walls of our small arteries and arterioles are going to thicken and stiffen anyway – effectively aging them prematurely – do not give them any further reason to do so.
If you have hypertension or are pre-hypertensive, start NOW to make the changes needed to get your blood pressure levels back to as close to optimal as possible. If you are overweight, especially around the tummy (Oo! Oo! Pick me!), drop a few kilos/pounds; get rid of the salt (read those food labels, and drastically reduce how much you add to food); if you smoke, STOP… RIGHT NOW (well, ASAP). Smoking contributes to arterial damage (it's not just bad for your lungs). Read here for other cardiovascular risks that arise from smoking and a list of suggestions to help you quit; if you aren't already, get physically active – yes, my body is in pain all the time too (start gently and, as you feel able, work up to moderate intensity – see Physical Activity Guidelines); talk to your doctor about starting, or modifying, blood pressure medication – there are plenty of options available; reduce exposure to, and manage, stress – plenty of options here as well; get enough sleep – easy to say, I know…I don't get enough myself, in terms of quantity or quality; cut back on the alcohol –  but you don't need to get rid of it entirely. See High Blood Pressure Treatment.
None of this is easy. We are creatures of habit and changing the habits of a lifetime can be bloody hard! You'll procrastinate initially; you'll make false starts; you'll doubt yourself; you'll feel physically and emotionally horrible at times; you'll get frustrated and angry.
Persist. Know that others will accept what you are trying to do and why. Know that others have been down the same path and understand what it feels like.
Be easy on yourself. Forgive yourself. Have faith in yourself.
It's worth it.
'til next time,
thecadasilblogbloke